Independent travel in a motorhome
Simply hit the road, change your plans on the spur of the moment and stop wherever it's most beautiful: travelling with your own vehicle has many advantages and can be tailored to suit your own needs and wishes. Would you prefer to avoid camping grounds and spend your holidays at campsites in the great outdoors, miles away from traditional campsites? Just want to head off into the unknown along unpaved roads? That's no problem if you have a self-sufficient motorhome or camper van with four-wheel drive. But what is it that actually makes a motorhome self-sufficient?
Features for self-sufficient adventures
Just pull over and set up camp: it's incredibly easy with a self-sufficient motorhome or camper van. If that's what you want, then the following equipment is absolutely essential.
Be well-prepared when you hit the road
Then even trips into the unknown will be a pleasure too. Things you should think about:
Suitable for off-roading The combination of the suspension lift, all-terrain tyres and four-wheel drive means that there are no limits to where you go next.

Perfectly equipped From the toolkit to the storage space and the compressor refrigerator – everything has been thought of in the self-sufficient HYMER CrossOver models.

Camp wherever you want When it comes to self-sufficient camping, you decide where to set up camp. Thanks to the comprehensive standard equipment package including a solar installation, the HYMER CrossOver models enable you to camp self-sufficiently for up to 10 days.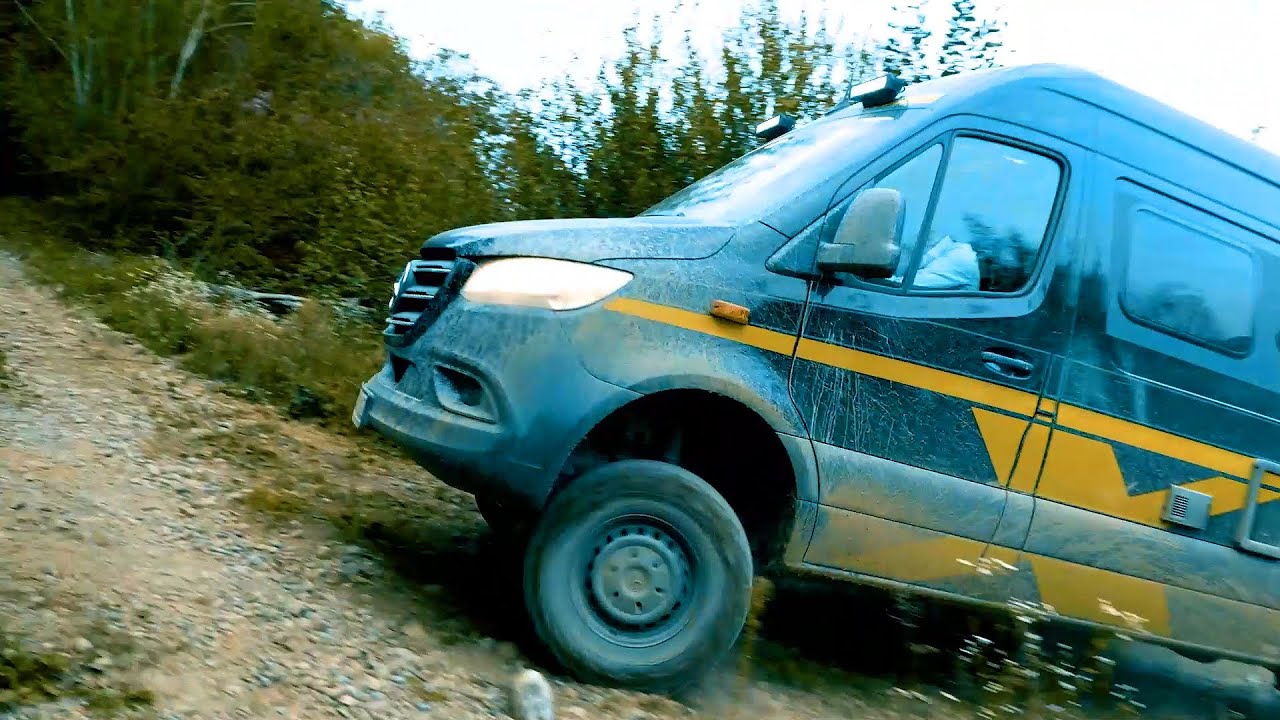 Cookie required
Please allow the marketing cookies to view this video
Go off-road on your next adventure
Your gear is all packed, you know where you're going, all you need to do now is get there. Off-road features, like four-wheel drive and all-terrain tyres, are a must if you don't want to limit your spirit of adventure. A selectable four-wheel drive system with gear reduction permits particularly slow and sensitive driving, ensuring you won't have any problems, even when the terrain gets tricky. The suspension lift ensures greater clearance and a higher fording depth – a real bonus on journeys along unpaved roads. An additional LED light bar above the cab ensures you can see where you're going, even in the pitch black of night.
This means that there are no limits to where you go next – you're free to head off into the unknown.
Equipped for any eventuality
Get away from civilisation and yet be prepared for anything. That's why the HYMER CrossOver edition models come with a toolkit that includes a folding spade and an axe. The generous storage space in and underneath the overhead lockers – where handy net pockets keep everything secure – means that there's plenty of room for all your essentials too. The compressor refrigerator has ample space for your food – there's no need for you to leave anything behind. Another benefit is that it also works on uneven terrain, doesn't rely on gas, is extremely quiet and has a capacity of up to 150 litres – perfect for self-sufficient camping.
The perfect campsite
Setting up a self-sufficient campsite outside of camping grounds isn't permitted everywhere with a motorhome. In Central and Eastern Europe in particular, wild camping is prohibited and often subject to stringent controls. Scandinavians are a little more relaxed about this. Although the "Right of Public Access" applies primarily to hikers or cyclists with tents only, but even with a camper van, parking at the roadside, at the end of the road and in public car parks is permitted, as long as you do not obstruct traffic. Locals or tourist information offices will help you to find suitable sites. Most importantly, the campsite must be left in a tidy state when you move on. It is best to find out more about the regulations regarding wild camping in your destination country before your trip.
Well-prepared with the self-sufficient edition models
Your perfect partners for trips into the unknown: the self-sufficient HYMER Grand Canyon S CrossOver and HYMER ML-T 570 CrossOver edition models have everything you need for an epic adventure.
Further offers and information