Whether for a spontaneous escape from everyday life or an extended trip through Europe - the mobile home is becoming a second home for more and more people. So, cleanliness plays an important role here.
Admittedly, modern models require special care due to their complex structure. However, the "Wash Motorhome" project on your to-do list does not have to be complicated. This guide gives you valuable tips on everything to do with cleaning the exterior of your motorhome, caring for the interior and everything else you need to pay attention to.
Washing your motorhome - Finding the right place
As for the pitch, you probably already know: Wild camping is not allowed. The guidelines for cleaning motorhomes are also based on this basic rule. Finally, chemicals can be rinsed off outside that pollute the environment or cause other problems.
In order to save yourself trouble, look for special washing areas for motorhomes. There you will also find the best conditions for a professional wash.
By the way...
Truck washes are not suitable for mobile homes. The brushes are too hard and could damage your vehicle. The same applies to the cleaning products used there, which are often too aggressive. Instead, head over to a special mobile home wash that will have the suitable mobile home cleaning products available.
The right plan of action for cleaning motorhomes
Regardless of whether stubborn dirt or rain streaks "adorn" your motorhome - before cleaning it is worthwhile forging a plan of action. The easiest way to do this is to first look at the exterior and then the interior.
The following two paragraphs provide tips on the general procedure. Later we will explain each task in detail.
Cleaning the outside of your motorhome - From top to bottom
For the exterior of the vehicle, this ideally means a top-down approach. The reason is quickly explained: as soon as you clean the roof of the motorhome, the dirty water flows off over the outside. It would therefore be pointless to clean them beforehand. The rims should therefore conclude the washing process from the outside.
Cleaning the interior of your motorhome
Once the outside of the motorhome has been cleaned, the interior follows. Here it is important to first remove the coarse dirt and then tackle the more difficult areas.
Start with thoroughly sweeping, vacuuming, and dusting, then pat out the upholstery and ventilate. Subsequently, the fine work on the taps, hob and dining area provides the finishing touches.
It is better not to wash or treat the vehicle in the blazing sun. Otherwise, certain influencing factors could cause colours to fade faster.
Cleaning care for your motorhome - Choose your cleaning products wisely!
If you are washing your motorhome for the first time, many questions arise. Are water and a sponge enough? Or do you need special products that clean and seal the motorhome? One thing is clear right from the start: In order to avoid damage, you should actually use special products for specific parts of your motorhome.
In this regard, we and our customers regularly have good experiences with products from Rotweiss. The cleaning products are precisely tailored to motorhomes and their requirements, which makes individual care easier.
Good to know
If you are unsure about what motorhome cleaning products to use and the correct procedure, you will find further help in the operating instructions for your vehicle. This is especially applies to the cleaning the interior.

 If you have any further questions, please do not hesitate to contact our technical support. You can reach us at +49 (0)7524 / 999 360.
Motorhome exterior cleaning - Make it planned and effective
As already mentioned in the first part of the guide, it is worth starting with the outside area of your motorhome. From the roof to the windows to awnings and rims, we will show you below how you can bring your vehicle back to a high gloss with a few simple steps.
Cleaning the motorhome roof - It all depends on the material
From pollen to resin to rain strips - the roof of your motorhome is exposed to numerous environmental influences and requires regular maintenance. The decisive factor here is that not all roofs are the same.
While you can step on waffle corrugated sheet with no worries, other materials are a bit more delicate. If you want to clean a motorhome with a GRP roof, styrofoam panels protect against unsightly pressure points as a work surface.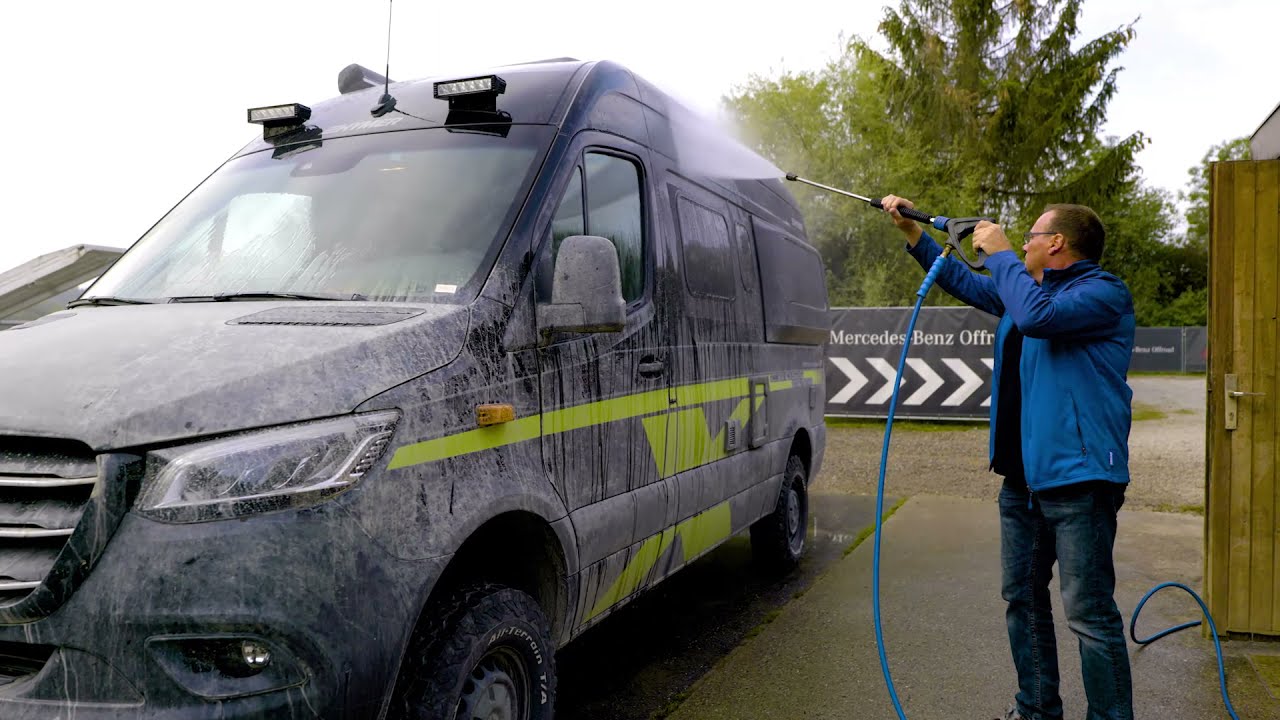 Cookie required
Please allow the marketing cookies to view this video
Top Tip
To remove more intensive dirt, to polish and to seal, please use special cleaning products. You will find specific information about suitable products in the operating instructions for your vehicle.
Reach your goal with patience and caution
The following applies when washing your motorhome: observe the manufacturer's instructions about cleaning products and proceed as gently as possible. A soft jet of water is always the better choice because it will protect your motorhome from unwanted damage.
If you work with a steam cleaner, you should also be careful here. Sometimes the dirt needs some time to loosen. Therefore, apart from the right cleaning product, patience is the be-all and end-all.
To avoid damage, leave out seals, ventilation grilles, decals and the reversing camera. Some parts (e.g. the surge seals on our models) are specially designed for mobile homes. Proven car tricks are therefore not always suitable when cleaning a motorhome.
A clear view not only ensures a more beautiful view, but also more safety.
Motorhome windows - Cleaning for a clear view
A dirty windscreen can quickly become dangerous, especially when the sun is shining. Fortunately, cleaning the windows of your motorhome is very easy. You can clean them like ordinary windows just like you do at home. It's a quick and easy task indoors. However, once you clean the front window, there may be a little more dirt waiting for you on the outside. If you leave the cleaning product to work a little longer here, even stuck insects will loosen.
Important
Special cleaners are ideal for windows made of acrylic glass because they are gentle on the material. Ordinary cleaning products encourage the plastic to dry out and thus also cause cracks to form.
Cleaning the motorhome awning - Sun protection also needs protection
The best way to remove light soiling from the awning is with clean water. Special cleaners that are specifically created to clean specific materials help with stubborn dirt. If you need more information, please check the motorhome operating instructions.
Stoffe sollten vor dem Verstauen immer erst ganz durchtrocknen, um Schimmelbildung zu vermeiden.
Finally - A thorough check
Cleaning the outside of the motorhome also includes carefully checking the seals and hinges. With special pens you guarantee optimal care because they keep the material supple with regular use. As soon as you clean your motorhome awning, check its functionality.
Dirt collects particularly quickly in the wheel arches. After cleaning with the jet wash, you can easily identify any damage. You can fix this quickly and prevent rust.
You do not have to clean the rims with a special rim cleaner. There is a variety of classic home remedies for cleaning rims, simple solutions include lukewarm water with a dash of vinegar.
Motorhome interior cleaning - create a feel-good atmosphere
Of course, when cleaning motorhomes, it is important to not only to make the outside area shine but also the inside area.
First of all: mobile homes are as diverse as their owners and can be set up just as individually as you want. Therefore, it is almost impossible to summarise general tips for interior cleaning. It is therefore crucial to take a look at the operating instructions if you are unsure or have questions.
However, our small checklist provides an initial overview and helps you to organise yourself before cleaning the inside of your motorhome.
Clean the refrigerator in the motorhome
Hygiene is especially important in the kitchen. It is therefore best to carefully look at the refrigerator as well. To avoid mould growth, set it to the fan position or leave the door open. Thorough cleaning behind the cooling grid often reveals all kinds of dirt.
Clean upholstery and pillows
You will find detailed care instructions for upholstery and cushions in your operating instructions. Nevertheless, we have some good basic cleaning tips for you:
Vacuum upholstery, pillows and covers once a month with the vacuum cleaner and a suitable upholstery attachment - just like you do at home.

If (deep) cleaning with a special steam cleaner is necessary, take the upholstery out of the vehicle if possible. This will prevent an unnecessary increase in humidity in the interior. Do not set the temperature of the device too high and then let the upholstery dry completely outside. However, avoid direct sunlight.
Treat full leather equipment with an appropriate upholstery leather cleaning product.

Our removable polyester fabric covers can be washed at a maximum of 30 ° C with mild liquid detergent on a gentle cycle without spinning. Allow to air dry - Do not use a dryer.
Spotted stains on your upholstery? Act quick!
When treating stains on upholstery, the following applies, as is so often the case: if you react quickly, it is much easier to clean. However, never remove stains with conventional household cleaners, such as washing-up liquid, but follow the recommendations in the operating instructions.
Please test the cleaning product beforehand on a hidden place on the upholstery as some cleaning products can affect fabrics and colours.
Curtains in the motorhome: having them washed is the way to go!
You shouldn't wash your curtains and blinds yourself, but rather take them to a dry cleaner. This protects the materials and helps to maintain the colour strength longer.
Cleaning the water tank in your motorhome - this is how it works
Cleaning the water tank in the motorhome can sometimes seem complicated. Especially for people who are new to motorhoming, you don't want to go wrong here. But we can give the all-clear because this step is also very easy with the correct prior knowledge.
For cleaning the water tank, we have very good experience with special cleaners such as the Dr. Keddo tank cleaner made by Schleimpur. But conventional denture cleaners from the drugstore also achieve satisfactory results. Simply put a pack in the tank and rinse it thoroughly after two days of exposure.
Checklist: Clean your RV to perfection in 28 steps
Find a suitable place for cleaning (preferably a special motorhome washing area)

Ensure you have the necessary materials and utensils.

Carefully clean the roof and remove any stubborn dirt

Clean the outside and loosen stains and dirt

If necessary, maintain the motorhome exterior with wax

Clean the awning with a special cleaner and roll it out to dry

Also clean the awning fabric and spread it out in the fresh air to dry (alternatively, the tent can also be cleaned)

Clean the front screen

If necessary, remove dirt from the remaining windows with acrylic glass cleaner

Check all seals and maintain them with a special pen

Check all hinges and lubricate or repair if necessary

Thoroughly clean the wheel arches and check for rust

Clean the rims

Open the windows and ventilate thoroughly

Vacuum all upholstery

Clean the upholstery and cushions, treat stains if necessary and air them outside the motorhome
Vacuum and clean the carpets depending on how dirty they are and also ventilate them outside

Empty all storage compartments, wipe them with a damp cloth, sort out stored items and put them back properly

Thoroughly wipe dust on all surfaces

Clean the inside of the cupboards as well as the fronts and other smooth surfaces with a damp cloth

Depending on how dirty it is, clean the kitchen counter and the stove

Clean the inside of the refrigerator

Treat any leather surfaces with a care product

Unhook the curtains and bring them home to be cleaned

Remove stones from the steps and the running rail on the door and clean them

Clean the water tank

Sort papers and cards in the glove compartment

Check the emergency equipment (e.g. safety vests, warning triangle, first-aid kit, etc.) for availability and durability
Conclusion: In the future your motorhome will always be clean with our top tips!
In this guide we have put together a large overview of the most important steps and tasks when washing and cleaning your motorhome.
Before you start cleaning, please take a look at your checklist (or download our checklist here) and carefully double-check whether there are any special instructions in your operating manual. After that, nothing stands in the way of a clean and homely travel experience!
Further offers and information