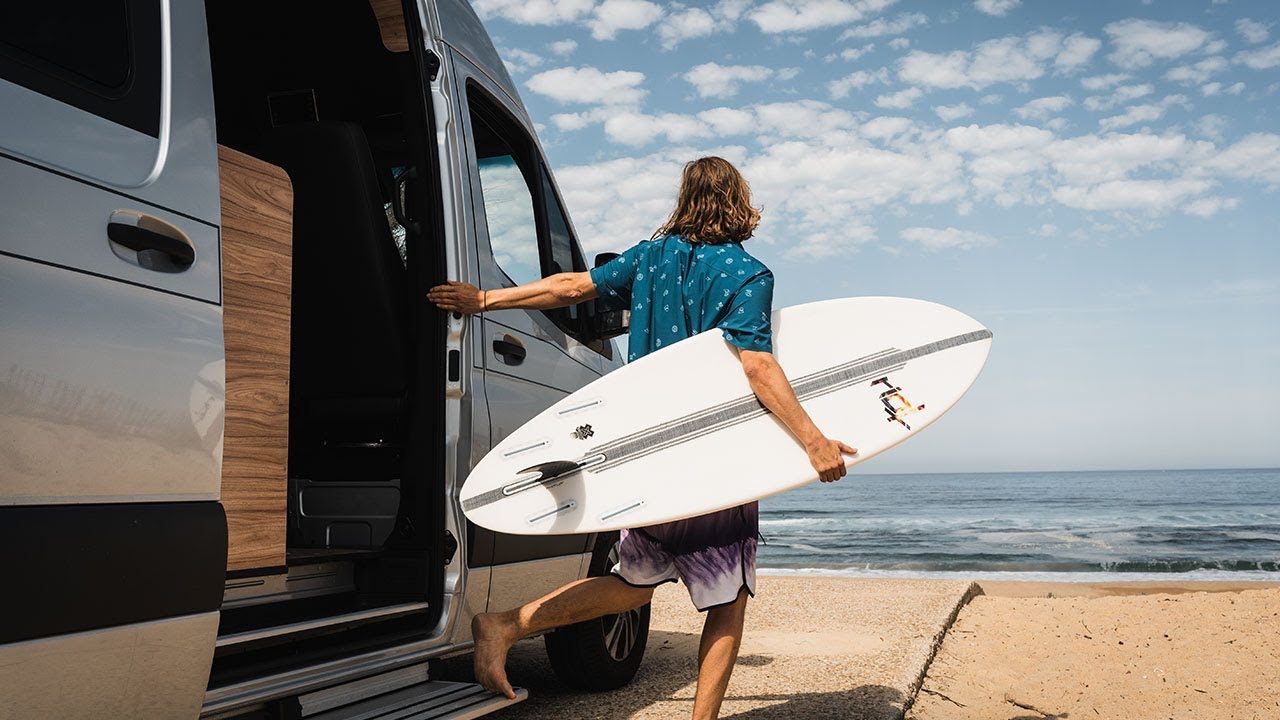 Cookie required
Please allow the marketing cookies to view this video
Loaded with great stuff
The first HYMER test before the trip even starts: packing! After a half hour of suitcase Tetris, six boards, the contents of four travel backpacks, food for the trip and camera equipment are stowed away. And look at that – there's even room left over for the three passengers. Test passed.
Sometimes you just have to get out there and do what you really feel like doing. That's why Patrick, Christian and Ferdi got their hands on a HYMER Grand Canyon S and made their way towards France. Their goal: the perfect wave
Travel instead of reading?
Get to know the HYMER Grand Canyon S now and start your own adventure today.
To the Model
In the world of surfing, France and Spain are considered a true paradise for wave riders. The twelve spots planned south of Bordeaux promise two weeks of ultimate surfing enjoyment. It's a fourteen-hour trip on the motorway to get there. That means: get the surf vibes going, set the cruise control and lane departure warning system and set your sights for the Atlantic.
After a relaxed all-night drive, the surfer crew takes a deep breath of the quintessential salty air and their adrenaline gets pumping. Having finally arrived, there's no holding them back: get parked, the boards out and into the waves.
In their daily routine – if you have such a thing on this kind of road trip – the guys are constantly impressed by the features developed by the designers. Their favourite is as simple as it is sensible: the external shower. Sand and salt is washed away in an instant and the interior stays clean.

A flat for three in 12m2
To be honest, the guys were a bit worried it might be too cosy in their 12 m2 dwelling. But as you can see, the joint living and touring experience is no problem at all thanks to the pop-top roof, intelligent floor plan and clever features like a folding washbasin. Provided you have good weather and clean socks.
On the same wavelength?
Are you, like Patrick, Christian and Ferdi, always looking for the best surfing spots and in need of the perfect tour bus? Then it's worth taking a closer look at the HYMER Grand Canyon S…

Hang Loose!
HYMER Grand Canyon S
The perfect HYMER for any adventure
You can experience stories like these with any HYMER.
In our model overview you are guaranteed to find a motorhome or a camper van that also goes with your travel plans.
To the HYMER models