The HYMER ML-T unites the latest drive technology and innovative lightweight construction with optimal comfort in an agile, semi-integrated motorhome. It is the result of a collaboration between two brands in which quality plays an important, if not the most important role. Every corner of this HYMER motorhome speaks of comfort and convenience: the level living area floor, the large seating area and the luxurious 360° swivel table are just a few examples. Despite weighing less than 3.5 tons, this motorhome gives you complete comfort coupled with excellent manoeuvrability in traffic. The HYMER ML-T also comes with a comprehensive safety package. What's more, it boasts a range of standard features and additional comfort which are unrivalled in this class.
3500 kg
Permissible total weight from
* All prices are recommended retail prices in EUR, based on the German retail prices. Prices in other countries may differ due to currency, country specific VAT, country specification, On The Road Charges or import duties. Please contact your local dealer for the applicable prices, taxes and duties for your country.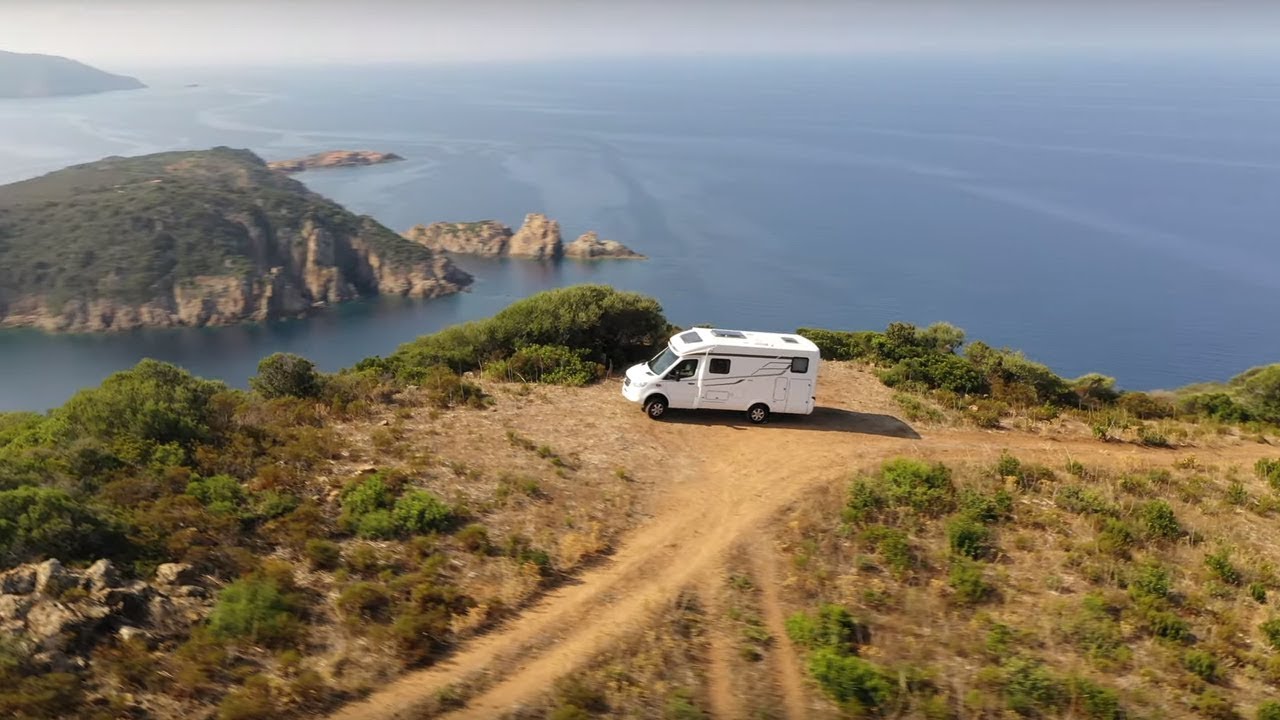 Cookie required
Please allow the marketing cookies to view this video
Design your vehicle in our configurator
In our configurator, you can design the HYMER ML-T to perfectly suit your taste.
Discover all of the design variants and find your dream configuration.
To configurator
Huge garage with a loading height of up to 1.21 m

All tanks and service installations insulated and heated

Light, slender and manoeuvrable thanks to an outside width of 2.22 m

Level living area floor

Optional four-wheel drive
Exterior views
The streamlined HYMER ML-T fuses the latest drive technology and innovative lightweight construction into an agile, semi-integrated motorhome. A true adventurer who will always safely and comfortably get you to your destination.
Vehicle design

The HYMER ML-T is based on the original ladder-type frame with rear-wheel drive and innovative lightweight construction.

Optionally available with all-wheel drive, the HYMER ML-T feels at home in almost any terrain.

Light, slender and manoeuvrable

Thanks to the 2.22 metre outside width, the HYMER ML-T is always a good fit.

The HYMER ML-T: agile semi-integrated motorhome of the highest standard.

The rear of the HYMER ML-T impresses with its understated elegance. Its unique distinguishing feature: the integrated multifunctional rear lights with LED hybrid technology and a signature design featuring the three bars of the HYMER logo.

As an option, the bodywork including painted alcove is available to order in Crystal Silver Metallic.

The cab is optionally available in Anthracite, Iridium Silver, Obsidian Black or Tenorite Grey.

The HYMER ML-T is available with a white exterior finish as standard (both the cab and bodywork).

The high-visibility daytime running light is fully integrated in the headlights and ensures safety even in poor lighting conditions. Together with the optional fog lamps with cornering light they provide even better visibility.

Its narrow outside width makes the HYMER ML-T particularly flexible and agile.

Storage space

Whether for the water, for cycling or for the mountains: the large garage of the HYMER ML-T has space for almost any sports equipment. 

The HYMER ML-T has a very generous garage as storage space with an internal loading height of up to 121 cm and access from both sides.

The garage of the HYMER ML-T comes as standard with a large door on both the driver and passenger side. The garage doors of the HYMER ML-T 580 have internal dimensions of 100 cm by 121 cm (W x H).

Optimally stowed away

Generous garages and efficient storage concepts provide space for all of your travel equipment.

The standard garage loading capacity of the HYMER ML-T is 350 kg, with the option of upgrading to 450 kg.

For more independence, the HYMER ML-T is also available with a self-sufficiency package, which includes the HYMER Smart Battery System, an additional living area battery (optionally as 135 Ah lithium or 95 Ah AGM) and an inverter. The batteries are housed in an externally accessible compartment.

The EBL is housed underneath the bench seat in the living area and is easy to reach via an exterior flap.
Interior features
Dolce vita on four wheels: with a level living area floor, a generous seating area and a luxurious 360° swivel table, you instantly feel holiday vibes thanks to the elegant and airy living area of the HYMER ML-T.
ML-T 560
ML-T 570
ML-T 580
ML-T 620
Equipment
From its vehicle bodywork to exclusive details, the HYMER ML-T boasts standard equipment that is unrivalled in its class – which is just one of the reasons it took first place in the "semi-integrated" category of the "Goldene Reisemobil 2018" awards.
HYMER brochures and price lists
In our download area you can download our catalogs and price lists with all product information..
Brochures for download
Rally legend Walter Röhrl as a guest in a HYMER ML-T 580
Forty years after his first "Monte" victory, rally legend Walter Röhrl is once again curving through the French Maritime Alps: this time with a historic Porsche. The reporters Markus Stier and Peter Göbel – who is also a famous rally driver – accompany the Monte-Carlo Historique with the HYMER ML-T 580 all-wheel drive and cooking for Peter's old mentor in the HYMER kitchen.
On to the rally
Further offers and information